Both Marie and Colby grew up in Allentown, Marie in 6th ward, and Colby in 13th ward. Marie worshiped at Immaculate Conception Church and Colby at St. Catharine of Sienna. Marie graduated from Central Catholic in 1958 and Colby from Allentown High in 1956. In 1957, Marie was on the St. Patrick's Parade Queen's court. Her Uncle Buck and Annie Boyle were early committee members.
They met in 1956 and married at Immaculate Conception in 1959 while Colby was still in the Navy. In 1965 they moved to Coopersburg and still live in the same house where they raised 7 children; 5 girls and 2 boys. The family now includes 20 Grandchildren & 11 Great-grandchildren
Marie's Irish lineage is through Brigitte and Cornelius O'Donnell, who emigrated from Donegal in the 1800's. Her father, Daniel "Bunn" Donohue's family came from County Claire. We proudly recall that her Aunt Annie and Uncle George "Bucky" Boyle were St. Patrick's Parade King and Queen in 1967. Her Aunt Mary Donohue and Uncle Samuel McGovern also were St. Patrick's parade King and Queen in 1961.
Colby's mother's maiden name was McCoy, whose family emigrated from Derry; in the Ulster region, during the early 1800's. Grandparents Thomas and Florence McCoy lived in Newry, a small Irish developed town in western Pennsylvania.
Marie stayed at home to raise their children and later had a few part-time jobs when they were older. Colby had a 30 year career with IBM and is now President and co-owner of Computer Management & Marketing Associates for the past 26 years.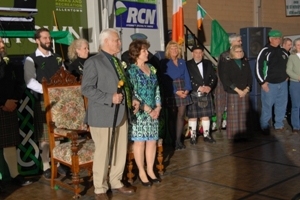 &nbsp&nbsp